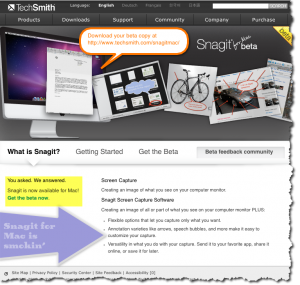 I have become obsessed with research and testing of screen capture tools. I was reminded via email about another great product from TechSmith. They are in beta for the Mac version of Snagit. Snagit is a very cool tool for screen capture. Those of you in the PC world are probably already familiar with it.  It is great for recording still images from your computer screen or for grabbing images from your web browser window.
I spent a few minutes today checking out the various tools. It has a wonderful array of tools, including call out boxes, highlighters pen effects, a variety of border styles and one special effect that really rocks, you can select perspective with a reflection to simulate depth. And did I mention you can change the opacity of any of your markup tools or callout boxes? This is slick.
Another big plus, you can save your capture in a variety of formats, bmp, jpg, png, pdf and they have built in a "share" feature so you can email your capture with ease.
TechSmith pays attention to the details. They have try before you buy downloads of their software. If you are looking for a well designed and feature friendly application, I strongly recommend that you download a beta trial now if you are on a Mac and if you are on a PC, try it and buy it.
SnagIt Beta for the Mac Click to listen to this post
Podcast: Play in new window | Download (1.8MB)