I love pizza. The crunch of the crust, the smell as it bakes. It is fitting that my love of this yeasty treat is leading to a new venture with the new year. A brand new collaboration is about to take shape at Mary's Pizza Shack in Sonoma. I am collaborating with Cindy Pinkston, Marketing Simply Done to host Sonoma-Webify.
We take inspiration from Mary Fazzio,the founder of Mary's Pizza Shack. She too was an entrepreneur. She is the mother of one of the most successful restaurant groups around. And she started with a little shack of a takeout spot just a few feet from where we will be launching an entrepreneurial meetup group in the backroom of Mary's Pizza Shack restaurant in the heart of Sonoma Valley.

Sonoma-Webify is a meetup group. We plan to meet on the 2nd and 4th Thursdays of each month and follow the words of wisdom created by Patrick Schwerdtfeger in "Webify Your Business: Internet Marketing Secrets for the Self-Employed".
Tying this together with the place where we will meet, is my connection to the author of the book mentioned above. I met Patrick about two years ago. I was a member of the program committe for BACN. I invited him to speak at the Bay Area Consultants Network and he agreed. He was so well received, we invited him back last year.
Patrick recently sent of the manuscript for the second edition of his book to his new publisher, Wiley. While it goes through the publishing process, we are working on a video project together with my partner in cinema, Peter Ivory.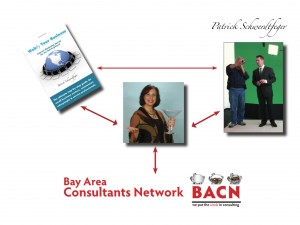 I meet all three people mentioned here through connections, networking, and meetups.
Meeting the people you need to move your business forward can be as simple as showing up, consistently, being open to opportunities, and it can take place over a slice of pizza.