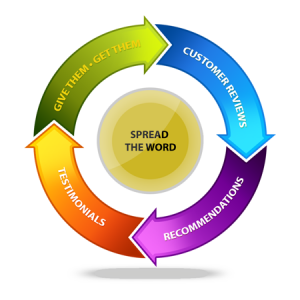 I posted my new business portrait on this site and other locations on the web. I was so pleased with my portrait, the photo session and my relationship with the photographer, Erin Hayes, Erin Hayes Photography, that I posted a recommendation for her on LinkedIn, Facebook and Twitter. I got lots of positive comments on the portrait, which translates into lots of eyeballs who viewed my recommendation of Erin.
I shared my testimonial with the members of my business group, Sonoma Success Partners. My friends, family, and business contacts, read or heard my testimonial for Erin. In a few minutes, I had shared my positive experience with hundreds of people I know and through them, with thousands more. The people who commented on my portrait and recommendations, multiplied my message exponentially.
The power of social media
sharing what you know
sharing what you like
sharing what makes you mad
sharing what inspires you
It was easy to do. It took me a few minutes to compose my message and a few more to post it. Then the magic of sharing took over.
Want an easy way to promote your business?
Leverage testimonials from your clients by asking for them on social networking sites.
Ask for written testimonials that specify a service or challenge you helped to resolve.
Ask your clients to record a video or audio testimonial for you. You can upload videos to YouTube, embed them on your web site or blog posts. You can embed or link to audio files.

Give and Receive Testimonials
I got busy giving and and requesting testimonials. LinkedIn lets you review recommendations before they are posted. It also prompts you to give a recommendation when you received one. Reciprocity at its best.
Get them in writing. Then you can pepper your web site with endorsements from happy clients. The credibility of paid advertising has dropped to an all time low of 14% believability versus our faith in word-0f-mouth comments. Real people, real words, real solutions, translate into rapport and trust.
In a previous post, I commented on what is known as "The Oprah Effect" or the "Tim Ferris Effect." Getting connected to someone who is famous, has a committed and engaged following, can turn your visibility super-nova bright. I worked for a graphic designer who was also an avid golfer. He invented "Loud-Mouth Golf," fun and funny golf attire and accessories for golfers with a sense of humor and style. His strategy for promotion, give the pants to famous golfers who then endorsed them. He leveraged his way into a larger circle of buyers and fans. I visited his web site today and there is now world-wide distribution of his products. Not bad for a grass roots company with marketing smarts. This strategy works because humans take on the style, habits, attire and behavior of our heros, and people we like. It shows we belong.
What's your next step?
See where you have a strong presence already and look at how you can increase your visibility through recommendations and testimonials. Here are some sites you might want to add to your list of cyber addresses. Most are free to join. Building your google juice depends on who knows you. Testimonials and recommendations are a proven way to expand your circle of influence and your profits.
 Sites That Make It Easy to Capture Testimonials and Reviews
Testimonials are better than ice cream. Especially when they are shared.